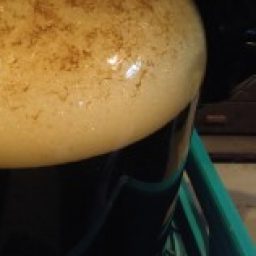 @brianp
active 2 days, 19 hours ago
3 weeks ago

Sorry not able to make it!  Bought a house in St. Thomas.  So much work, so little time.  See you guys next month!

1 month, 1 week ago

Awesome, count me in.  I'll keep the 10th open.

1 month, 2 weeks ago

Sounds great.  I shall be entering my dark ale/barley-wine/frankenbelgian dark strong.  I don't know what the fuck to even label this beer now.  It has been aging since the start of June and as it develops it is starting to taste like a big ol' quad.  Experimental beer?  Who the fuck knows, all I know is that it tastes like awesome.

1 month, 2 weeks ago

I am bringing one bottle of flat beer for diagnostic testing.  I have had three batches of beer.  All with the same off flavour.  All used wildly different yeasts, two beers fermented at ~ 18 C with London ale yeast and US-05, one at 35 C – 38 C  with a Kveik yeast.

Anyway I hope others may be able to help out with elucidating the source of my…[Read more]

1 month, 3 weeks ago

Unfortunately both beers that I brewed for the competition are undrinkable and I will have to either pull out entirely, or present two beers that I would not use to put out a fire.  I seem to have either a contamination issue, or a process issue.  I am leaning toward a process issue.  I believe it to be as a result of not rinsing my tr…[Read more]

1 month, 3 weeks ago

Doesn't matter I live out of town.  But when you get set up I'll buy stuff there.

2 months ago

Two other beers that that same flavour.  The kveik and oatmeal stout, both have a horrible medicinal flavour.  Obviously something has went really, really wrong with the last three beers that I have made.  Thankfully my barley-wine has seemed to escaped my dumb-assery and that tastes awesome.

It is either an infection, and if it is my au…[Read more]

2 months ago

@robthebrewer @ryanodonnell  Yep, I build all my water profiles based on the style of beer that I make.  Everything was clean and well rinsed.  The exact same cleaning and sanitation protocol was follow for this beer as my other beers that all turned out fine.  Everything gets cleaned with unscented oxyclean, then a a few metric ton of water get…[Read more]

2 months ago

I brewed a cream ale and something went horribly, horribly wrong.  Maybe someone can help me approximate the cause of this.

I took a FG reading, gravity was at 1.011 (exactly what beersmith predicted).  I tasted the sample, tasted bitter and medicinally, not rotten, or anything noxious.  It had only been 10 days or so at this point in time so I…[Read more]

2 months ago

@a50snake That is quite similar to what the supplied saison yeast smelled like before I tossed it and make a starter of my simonaitis Kveik.  The saison starter smelled like a cross between rotten milk, rot, sulphur and death.  Smelling it almost made me puke.  I think the yeast never took off and what I was smelling was old smelly wort.  The…[Read more]

2 months ago

Finally got to brew and I am at boil at 11:51 pm.  Anyway I went with Chris' numbers fromhis mini mash and added 2 lb of pilsner malt to my mash.  My predicted preboil gravity was then to be 1.048.  My actually preboil gravity after correcting for temperature is 1.058.

My gravity was quite a bit higher than predicted.  It could be my eff…[Read more]

2 months ago

@starhawk  I think that puts right in the ball park of what Chris found with his mash test.  I am working of the assumption at this point that the mash test was correct.  How well was your grain milled?  I stated already that I found that the ATG malt did not mill as well, and I had to subsequently adjust the distance between my plates; I also mil…[Read more]

2 months ago

@xpops   I will be brewing this afternoon, waiting on my scale arriving so I can make accurate water additions.  But, I am assuming Chris's mash test was correct and adding two pounds of german pilsner to my grain bill.  I also milled the against the grain malt twice.  If I hit over my oatmeal stout will become a robust porter … Assuming beer…[Read more]

2 months ago

I noticed something regarding against the grain 2 row.  It didn't crack very well in my mill.  Even though the rollers where set at the correct distance.  I ran the grains through again and they milled better on second pass.  Check to make sure the grain is actually milled before mashing.

2 months ago

I'm just throwing in a few pounds of German pilsner malt to bring my beers back up to where I'd like them to be, but not enough to push me under 60% local for my oatmeal stout.  For my Kveik, I'm leaving it as is.  It will end up ~5.9% ABV instead of ~7.7% ABV.

2 months ago

Wow, that is really low.  I am surprised.  Why would this be any different than regular old 2 row?  I am really glad I waited for these results before I brew.  Thanks for doing this.