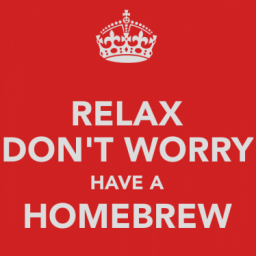 @jrush
active 7 hours, 50 minutes ago
1 week, 5 days ago

Awesome! Thanks Bryan. I'm fine with pick up's at my place.

1 week, 6 days ago

Totally forgot Bryan.  I can meet you later next week, hopefully somewhere convenient for you!  I'm definitely interested in brewing one of each strain.

1 week, 6 days ago

Thanks Scott/ @a50snake, I think that answers the immediate questions.  Keep the information coming! Who's doing the social media on this event? The Co-op?

(Idea: release a Facebook/Twitter/Insta post about the local brew competition and that the LHG "accepts the challenge" to brew)

To all LHG members: Don't miss this opportunity to show off…[Read more]

3 weeks ago

1 month, 2 weeks ago

Name: Smooth Operator

Style: Oatmeal Stout

ABV: 5.3%

IBU: 32

SRM: 30

ABI: No

Anderson wort: No

3 months, 1 week ago

Established hop plants are hard to damage.  They are hardy AF perennials that will take over your garden if you're not careful to maintain them.  Grab a shovel and dig around the crown, you will pull up the new shoots (sprouting from the rhizomes) and then cut off a 3 to 4 inch section, leaving at least one shoot intact.  These can be tr…[Read more]

3 months, 1 week ago

Toronto Brewing https://torontobrewing.ca/

is selling rhizomes for $8.95.  Factor tax and shipping your about the same as a potted hop plant.

The cheapest way to start growing your own is getting a rhizome from someone within the club willing to harvest it for you.  I gave away dozens in the last few years. We typically shared/traded/sold r…[Read more]

3 months, 2 weeks ago

Beersmith – Hitting my numbers with confidence since 2012.

3 months, 3 weeks ago

3 months, 3 weeks ago

As @mongcong mentioned at the meeting last night: post your recipes!  There may be a fan of your brew who wants to give it a go.

I think some of you enjoyed the beer I brought, so…

rushtobrew: Hop Soup.

9 lbs (4 kg) OiO 2-row
1.5 lbs (0.68 kg) Light Munich
1 lb (0.45 kg) OiO Wheat malt
1 Whirlfloc tab at 15 min
1 oz (28 g) Amarillo…

3 months, 3 weeks ago

In an effort to avoid a two-man tap takeover, I'll offer this. However, I'm happy to give up my spot for a new brewer or anyone else who would like to bring something.

– Your Name: Look above my avatar

– Your sample's name: Hop Soup

– On Untappd? Does anyone still do this?

– Style: American Pale Ale

– ABV: 6%

– IBUs: 50

– SRM: 4.8

– ABIs (…[Read more]

3 months, 3 weeks ago

Wow.  MY hops weren't gift wrapped 🙁

4 months, 1 week ago

Thank you Chris, for handling another hop buy and distribution!

4 months, 1 week ago

Why don't you take the lead on competition dates and keeping the LHG members informed?  It is a shame that we're not entering in ALES this year.  However, there are more comps coming up that we can get in on!  The next one close to us is Because Beer Homebrew Competition.  The biggest comp in Canada is GTA Brews Brew Slam in Nov…[Read more]

4 months, 3 weeks ago

I will bring two since we seem a bit light and I haven't brought a beer in while.

Your sample's name – Farmhouse Saison
On Untappd – No
Style – Saison
ABV – 6.3%
IBUs – 30
SRM – 5
ABIs – No

Your sample's name – Coffee Blonde
On Untappd – No
Style – Blonde Ale, dry beaned with medium roast coffee
ABV – 5.1%
IBUs – 23
SRM – 5
ABIs – No

5 months ago

You're right, with the pressure canning method.  Some freeze their starter wort.  Agreed with sharing all ideas, methods, practices.  Not everyone wants to can, freeze or otherwise preserve starter wort.  I do appreciate the value of it, I just don't do it since it's easy and economical enough (factoring time/effort) to buy DME…[Read more]

5 months ago

I go the DME method every time.  Not organized enough to brew starter wort (although I have the means)  and since making a starter is so easy with DME, not really worth the extra time, effort and freezer space.

White Labs has a super easy method:

5 months ago

Welcome Kyler!

We have a few cider and mead makers in the Guild too.  As Chris suggested, there are usually 8 – 10 different (homebrew) samples at the monthly meeting.  Members bring ~ 2L to share with the group.  There's a forum post to signup to bring your samples a few days before the meeting.  Don't be shy, give it a try!