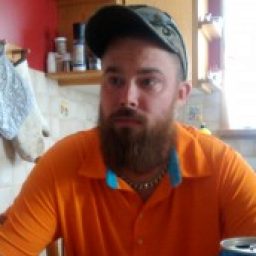 @terryrichards
active 2 hours, 39 minutes ago
2 days, 9 hours ago

5 days, 10 hours ago

I am able to come out and help.

2 weeks, 4 days ago

Regulator is set to 8 psi. Most people set to about 12 psi for the most part so 4 psi under the norm is not too far off the rails by any means. The restriction ports I plan to make will be in the neighborhood of the same inner diameter as the nozzle on the tap. With a couple extra to try the extreme ends of the scale.  I plan to make these from…[Read more]

2 weeks, 4 days ago

I would be joking if I said it didn't take a few pints or more to get the correct ballance of pressure to flow rate. I've actually got a great poor now and it's only a bit slower then the cobra picnic tap with 6 foot of line I had on there before.

The issue the way I see it is that the dip tube is allowing far to great of a flow of beer and by…[Read more]

2 weeks, 6 days ago

2 weeks, 6 days ago

After fermentation beer goes into a keg. then that keg is hooked up via liquid ball lock to an inline filter then the use of co2 pushes the beer through the system and to another keg for chilling and carbonation.

2 weeks, 6 days ago

So ive literally just got my own home system going and after a couple weeks this is what ive managed to come up with.

1. Display bar fridge.
2. Standard 5 gallon corny keg. (With .5 micron stone installed for Rapid carbonation)
3. Stainless ball locks. (Worth every penny)
4. Stainless intertap g2. (Personally made stainless handle)
5. 5lb co2…[Read more]

1 month, 2 weeks ago

Is it too late to get in on this keg buy?

1 month, 3 weeks ago

Terry Richards

Rusty Blush

Raspberry Cream Ale

ABV 4.8

IBU 24

SRM 5

Yes made with Anderson wort

No ABI

2 months ago

Would like to add a raspberry twist on this delightful cream ale. Any suggestions would be much appreciated. I would like to use fresh or possibly frozen raspberries but sanitation is likely to be a factor and would like to keep away from extract if possible. Thanks!

2 months, 2 weeks ago

Count me in I'll be there!

2 months, 3 weeks ago

Sign me up, I'll be there!

2 months, 3 weeks ago

Hi I'm the new guy in the group, I enjoy drinking and making craft beer among other things such as the outdoors, camping, fishing, hunting and my family.
Total new guy when it comes to the craft scene and only got a couple few brews under the belt, but I am eager to learn the art of brewing and meet some good people along the way.