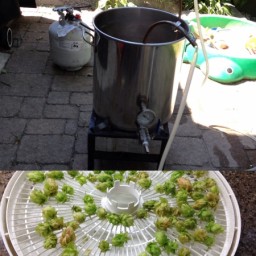 @hambley
active 3 days, 11 hours ago
5 days, 11 hours ago

yeah…..I love the no cereal mash.  Maybe he wanted to do a cereal mash?

5 days, 11 hours ago

I picked up 5 lbs of flaked wheat at Arva Flour Mill last week.  They might have raw wheat (phone them?)

1 week ago

I'm down with making the acid malt a 5 way.

– Greg

1 week, 2 days ago

Hey Roger – It's yours!  We'll stay in contact – I'll be at the grain buy collection so that might be the plan.

– Greg

1 week, 3 days ago

1 week, 3 days ago

Hey Everyone,

Ive got an extra red bench capper for sale – $30 Works great for many types of bottles (totally adjustable!)

let me know!

Greg

2 weeks, 6 days ago

3 weeks, 2 days ago

oh man….I forgot about Galaxy!!!!!

also:

el dorado

3 weeks, 3 days ago

1 month ago

I've got lots of flaked corn! I live in old south – PM me if interest!

– Greg

1 month, 1 week ago

Level 4 investigation Mr. Montcalm.  Loving the chemistry – keep it coming?

1 month, 1 week ago

I've been wondering about whether the salts I was adding were hydrated or not for a while – thanks for doing the experiment to confirm.  Love this.

2 months ago

ah man dark beers……turns out I'm having some trouble with them (not like some of you who have dark advent brews that have been excellent!).  But luckily I love a hazy session IPA and had brewed up a "backup" advent beer after my bourbon vanilla porter didn't turn out as expected (malt tannin issue? After reading the BYO malt article in this…[Read more]

2 months, 2 weeks ago

3 months, 1 week ago

3 months, 1 week ago

@brianlunn I brewed up a version of Denny Conn's Bourbon Vanilla Porter – the dark grains were substantial – lots of simpson's chocolate, some brown malt and crystal 120.  I added some chalk in the mash to raise the pH, but something was up. I pitched on a yeast cake (full cake) of a cream ale and I think that the yeast gave up the ghost.  I'm g…[Read more]

3 months, 1 week ago

ahhhh….I'm having issues with brewing dark beers – they all have a weird tannic haze and generally taste awful (pH issue? Bacteria? fermentation issue?). My selection will change to a session IPA. I'll update the spreadsheet.

– Greg

5 months ago

I picked up a couple of these for $12 shipped from aliexpress – they took a while to get to me, but I love them in the keg.